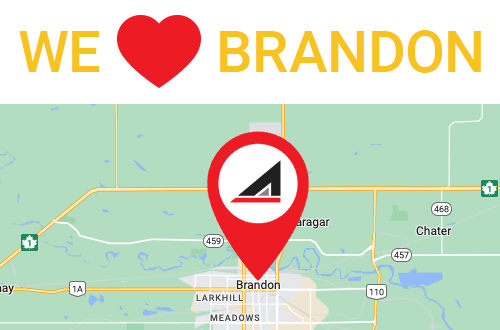 It has been a long-term goal for our Managing Partner, Howard Wirch, FCPA, FCGA to expand Accent Chartered Professional Accountants into the Brandon Market. This year we are excited to announce that Howard's goal has become a reality! Accent CPA is now in Brandon!
On March 7, we opened the doors to our fourth office across Manitoba which is located at 1202 Princess Ave. We share the upper level of this building with LINKS Institute. This will serve as a temporary office as we prepare to move into our permanent location in the fall of 2023.
Our Associate, Whitney Sharkey, CPA, CA will work with our Brandon clients. Whitney joined Accent earlier this year and is currently working at our Brandon location. Prior to joining Accent, she worked with a large national public accounting firm for 13 years. Senior Accountant, Kirsten Barth, CPA will join Whitney at our Brandon office in early 2024. Kirsten has been working in public practice for ten years.
Keep an eye open for big news coming this fall about our move into our permanent location and grand opening!
Accent has been the leading accounting firm in Parkland for over 50 years and this expansion into Brandon will be our first office outside of this region. We are proud to offer a variety of services that reflect the needs of our customers including:
Financial Statements
Tax Services
Bookkeeping
Agriculture
Financial Projections
QuickBooks
Advanced Tax Planning
Non-for-Profit Organizations & Registered Charities
With tax season upon us, if you have not yet completed your personal or business tax returns, don't hesitate to reach out to Whitney at 204-500-3084 or email to set up a time to get your taxes completed. Remember the filing deadline is May 1 this year. Don't leave it until the end to get your taxes done. We still have time to prepare them if you get them in over the next week.